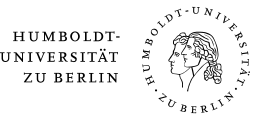 Finance Group @ Humboldt
The Finance Group @ Humboldt consists of those faculty members with research interests in finance. We are dedicated to conducting rigorous and relevant research, publishing in leading academic journals and providing students with a broad introduction to the main areas in finance, such as corporate finance, financial intermediation, investments, international finance, asset management, and mathematical finance. Our teaching activities include courses at the Bachelor, Master and Ph.D. levels.

The Finance Group closely cooperates with the finance faculty at ESMT and other research institutions in Berlin. Learn more about the Berlin Finance Network.
Tenured Faculty
| | | | |
| --- | --- | --- | --- |
| Adam, Tim | DOR 1, 305 | 2093 - 99428 | tim.adam [at] hu-berlin.de |
| Bruche, Max | DOR 1, 307 | 2093 - 99472 | max.bruche [at] hu-berlin.de |
| Horst, Ulrich | RUD 25, 1.202 | 2093 - 45452 | horst [at] math.hu-berlin.de |
| Mariano, Beatriz | DOR 1, 301 | 2093 - 99473 | beatriz.mariano [at] hu-berlin.de |
| Menkhoff, Lukas | DIW | 89789 - 435 | lmenkhoff [at] diw.de |
| Stomper, Alex | DOR 1, 302 | 2093 - 99422 | alex.stomper [at] hu-berlin.de |
| Stehle, Richard (emeritus) | DOR 1, 105 | 2093 - 99460 | stehle [at] hu-berlin.de |
---
Non-Tenured Faculty
| | | | |
| --- | --- | --- | --- |
| Keil, Jan | DOR 1, 306 b | 2093 - 99427 | jan.keil [at] hu-berlin.de |
| Kucinskas, Simas | DOR 1, 306 a | 2093 - 99439 | simas.kucinskas [at] hu-berlin.de |
| Baumgartner, Simon | DOR 1, 308 | 2093 - 99433 | simon.baumgartner [at] hu-berlin.de |
---
Visiting Faculty
| | | | |
| --- | --- | --- | --- |
| Burg, Valentin |   |   | valentin.burg [at] gmail.com |
| Kasch, Maria | DOR 1, 403 |   | maria.kasch [at] hu-berlin.de |
| Radwanski, Juliusz | DOR 1, 403 |   | juliusz.radwanski [at] hu-berlin.de |
---
Secretary (contact currently only by email)
| | | | |
| --- | --- | --- | --- |
| Bauer, Annette | DOR 1, 304 | 2093 - 99470 | annette.bauer [at] hu-berlin.de |
| Brown, Felicia | DOR 1, 304 | 2093 - 99430 | felicia.brown [at] hu-berlin.de |
|   |          Fax | 2093 - 99431 |   |
---
Ph.D. Students
| | | | |
| --- | --- | --- | --- |
| Conradi, Jakob | DOR 1, 404 | 2093 - 99426 | jakob.conradi [at] hu-berlin.de |
| Dimke, Peter Paul | DOR 1, 403 | 2093 - 99425 |   |
| Ghaffar, Hira | DOR 1, 404 | 2093 - 99424 | ghaffarh [at] hu-berlin.de |
| Gräfe, Charly | DOR 1, 406 a | 2093 - 99437 | graefech [at] hu-berlin.de |
| Hüttl, Pia | DOR 1, 406 b | 2093 - 99423 | pia.huettl [at] hu-berlin.de |
| Reigber, Constantin | DOR 1, 406 b | 2093 - 99429 | reigbeco [at] hu-berlin.de |
| Zhao, Chong | DOR 1, 406 a | 2093 - 99475 | chong.zhao [at] hu-berlin.de |
---
Student Assistants
| | | | |
| --- | --- | --- | --- |
| Arslan, Enise |   |   | arslanen [at] hu-berlin.de |
| Liess, Maria-Sophie |   |   | liessmar [at] hu-berlin.de |
| Mobaleghnasseri, Mahsa |   |   | mobalegm [at] hu-berlin.de |
| Pelzer, Luise |   |   | pelzerlu [at] hu-berlin.de |
| Staniscia Koprik, Rebecca |   |   | staniscr [at] hu-berlin.de |
| Süring, Til |   |   | sueringt [at] hu-berlin.de |