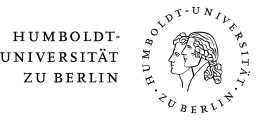 Former Chairholders
On this page you can find an overview of the former chairholders of the School of Business and Administration.
Business Administration
Banking Management
Dr.oec. Karlheinz Tannert
Bank-, Börsen- und Versicherungswesen
Prof. Dr. Wolfgang Zschokelt†
Business Taxation
Prof. Dr. Lutz Haegert
Finanzierung
Prof. Dr. Sigrid Müller
Finanzierung-, Bank-, Börsen- und Versicherungswesen
Prof. Richard Stehle, Ph.D
Gender and Diversity Management
Prof. Dr. Barbara Beham
Management
Dipl.-Vw. Ernst Maug, Ph.D., Prof. Dr. Joachim Schwalbach
Marketing
Prof. Dr. Lutz Hildebrandt, Prof. Dr. Wulf Plinke
Operations Research
Prof. Dr. Andreas Brandt†, Prof. Dr. Kurt Helmes
Organizational Theory
Dominique Demougin, Ph.D.
Private Equity
Hermann Elender, Ph.D.
Qualitative Betriebswirtschaftliche Steuerlehre
Prof. Dr. Henriette Houben
Financial Accounting and Auditing
Prof. Dr. Bärbel Gertich, Prof. Dr. Theodor Siegel, Prof. Urška Kosi, Ph.D.
Unternehmenstheorie- und Politik
Prof. Dr.mult. Horst Albach
Business Theory and Politics
Prof. Dr. Helmut Gründl
Währung und Finanzen
Peter Feuersenger
Information Systems
Prof. Dr. Bettina Berendt, Prof. Dr. Hans Gernert†, Prof. Oliver Günther, Ph.D.
Economics
Applied Microeconomics
Johanna Möllerström, Ph.D.
Demographie
Prof. Dr. Parviz Khalatbari
Institutional Economics
Prof. Dr.mult. Christian Kirchner†
Industrial Economics
Prof. Lars-Hendrik Röller
Finanzwesen
Dr.sc.oec Günther von Grumbkow†, Dr.sc.oec Johannes Gurtz
Public Economics
Prof. Dr. Bengt-Arne Wickström, Günther Radtke
History of Political Economy
Dr.sc.oec Günther Krause
International Finance
Erwin Rohde
Military Finances
Joachim Stephan
Public Finance and Economic Policy
Prof. Dr. Charles B.Blankart
Public Economy
Prof. Dr. Dalia Marin
Econometrics
Prof. Dr. Christoph Breunig, Prof. Dr. Melanie Schienle, Prof. Dr. Nikolaus Hautsch
Economic Geography
Alfred Zimm
Political Economy
Dieter Klein
Statistics
Dr. Ostap Okhrin, Prof. Dr. Wolfgang Härdle
Statistik und Ökonometrie
Prof. Dr. Bernd Rönz, Prof. Helmut Lütkepohl
Currency and Finance, General Economic Policy
Prof. Dr. Klaus Kolloch†
Global Economy
Karl-Heinz Domdey
Economic History
Prof. Dr. Albrecht Ritschl, Karl Hardach†, Prof. Dr. Lothar Baar, Marc Spörer, Waltraud Falk†
Information Systems and Statistics
Siegfried Apelt
Economic Policy
Prof. Harald Uhlig, Ph.D.
Commercial law
Otto Boßmann
Economic Statistics
Prof. Dr. Erhard Förster
Economic Theory (Micro)
Prof. Dr. Elmar Wolfstetter, Dr. Werner Güth
Environmental Protection
Prof. Dr. Günther Streibel