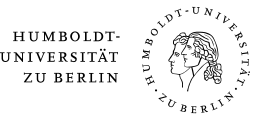 Am Institut für Corporate Finance der Humboldt-Universität zu Berlin ist demnächst eine Stelle als
Wissenschaftliche/r Mitarbeiter/in (m/w/d, E 13 TV-L HU) mit 2/3-Teilzeitbeschäftigung
zu besetzen. Die Stelle ist befristet für drei Jahre.
Aufgabengebiet: Wissenschaftliche Dienstleistungen in Forschung und Lehre am Lehrstuhl für Corporate Finance. Aufgaben zur Vorbereitung einer Promotion oder zur Erbringung zusätzlicher wissenschaftlicher Leistungen. Betreuung von Masterarbeiten
Anforderungen:
Abgeschlossenes Hochschulstudium auf dem Gebiet der Wirtschaftswissenschaften (VWL, BWL), Wirtschaftsmathematik oder Statistik
Gute Kenntnisse in Finanzierung (Corporate Finance oder Financial Intermediation) und Ökonometrie
Sehr gute Englischkenntnisse in Wort und Schrift
Programmierkenntnisse, Erfahrung im Umgang mit Datenbanken oder Erfahrung mit empirischen Analysen vorteilhaft.
Wir bieten an: Der Lehrstuhl für Corporate Finance bildet zusammen mit den Lehrstühlen für Finance und Financial Economics die Finance Group an der Humboldt-Universität. Wir sind ein junges, dynamisches Team, bestehend aus drei Professoren, einem Juniorprofessor, mehreren PostDocs, und etwa 6-8 Doktoranden mit dem Ziel, unsere Forschung in international führenden, wissenschaftlichen Zeitschriften zu veröffentlichen. Gegenwärtige Forschungsgebiete liegen auf den Gebieten: Unternehmensfinanzierung, Risikomanagement, Fremdkapitalfinanzierungen, Financial Intermediation, und Behavioral Corporate Finance. Wir sind offen für weitere, neue Forschungsvorhaben in Corporate Finance und/oder Financial Intermediation, insbesondere Climate Finance.
Weitere Informationen unter https://www.wiwi.hu-berlin.de/en/Professorships/bwl/finance
Bewerbungen (Anschreiben, Lebenslauf, Zeugnisse, Research Statement und Publikationen/Working Papers) sind innerhalb der Ausschreibungsfrist unter Angabe der Kennziffer (Stellenveröffentlichung hier: https://www.personalabteilung.hu-berlin.de/de/stellenausschreibungen) an Humboldt-Universität zu Berlin, Wirtschaftswissenschaftliche Fakultät, Unter den Linden 6, 10099 Berlin, bevorzugt in elektronischer Form an Felicia Brown: felicia.brown@hu-berlin.de zu richten.
Zur Sicherung der Gleichstellung sind Bewerbungen qualifizierter Frauen besonders willkommen. Schwerbehinderte Bewerber/innen werden bei gleicher Eignung bevorzugt. Bewerbungen mit Migrationshintergrund sind ausdrücklich erwünscht.
The Institute of Corporate Finance at Humboldt-Universität zu Berlin has a vacancy for a
Research Assistant (m/f/d, E 13 TV-L HU) with 2/3 part-time employment
to be filled. The position is limited to three years.
Responsibilities: Scientific services in research and teaching at the Chair of Corporate Finance. Tasks in preparation for a doctorate or to provide additional scientific services. Supervision of master theses.
Requirements:
Completed university studies in the field of economics (VWL, BWL), econometrics or statistics.
Good knowledge of finance (corporate finance or financial intermediation) and econometrics
Very good written and spoken English
Advantageous are programming skills, experience with databases or experience with empirical analyses.
We offer: The Chair of Corporate Finance together with the Chairs of Finance and Financial Economics form the Finance Group at Humboldt-Universität. We are a young, dynamic team consisting of three professors, one junior professor, several PostDocs, and about 6-8 PhD students with the goal to publish our research in internationally leading, scientific journals. Current research areas are in the areas of: Corporate Finance, Risk Management, Debt Financing, Financial Intermediation, and Behavioral Corporate Finance. We are open to other, new research projects in Corporate Finance and/or Financial Intermediation, especially Climate Finance. For more information, please visit https://www.wiwi.hu-berlin.de/en/Professorships/bwl/finance
Applications (cover letter, curriculum vitae, certifications/references, research statement and publications/working papers)should be sent within the advertisement period, quoting the reference number (job publication here: https://www.personalabteilung.hu-berlin.de/de/stellenausschreibungen) to Humboldt-Universität zu Berlin, Faculty of Economics, Unter den Linden 6, 10099 Berlin, preferably in electronic form to Felicia Brown: felicia.brown@hu-berlin.de
To ensure equal opportunities, applications from qualified women are particularly welcome. Disabled applicants will be given preference in the event of equal suitability. Applicants with a migration background are expressly welcome.
-------------------------------------------------------------------------------------------
Studentische Hilfskraft in der Finance Group
Unsere Stellen für studentische Hilfskräfte in der Finance Group werden hier ausgeschrieben:
https://www.wiwi.hu-berlin.de/de/administration/stellenausschreibungen
Aufgaben: Mitarbeit in Forschungsprojekten, Internetrecherche, Datenbeschaffung, Programmierarbeiten, Erstellung von Lehrmaterialien.
Anforderungen: Gute Studienleistungen, Kenntnisse über Finance, Interesse an wissenschaftlicher Arbeit, sorgfältige und zielgerichtete Arbeitsweise, schnelles Verständnis, gute Kommunikationsfähigkeiten in Deutsch oder Englisch.
Kenntnisse in Stata, R oder Python sind von Vorteil, aber nicht erforderlich.
Wir bieten an: Ein kollegiales Arbeitsklima in einem Team von etwa sechs studentischen Hilfskräften, flexible Arbeitszeiten (40 h/Monat), Zugriff auf modernste Datenbanken.
Bewerbungsunterlagen: Motivationsschreiben, Lebenslauf, Notenübersicht, Kopien von Zeugnissen, Praktikumszeugnissen, usw. Bitte geben Sie die Kennziffer der Stellenausschreibung an.
Wenn Sie Interesse an einer Stelle als studentische Hilfskraft in der Finance Group haben, senden Sie bitte eine E-Mail an finance-group@hu-berlin.de.
Student Assistant in the Finance Group
If we are currently looking for student assistants to join the Finance Group you can see here:
https://www.wiwi.hu-berlin.de/de/administration/stellenausschreibungen
Responsibilities: Collaboration in research projects, internet research, data acquisition, programming work, preparation of teaching materials.
Requirements: Good academic performances, knowledge in finance, interest in scientific work, careful and purposeful working methods, quick comprehension, good communication skills in German or English.
Knowledge in Stata, R or Python is advantageous but not required.
We offer: A collegial working atmosphere in a team of six student assistants, flexible working hours (40 h/month), access to state-of-the-art databases.
Application materials: Letter of motivation, CV, transcript, copies of diploma certificates, internship certificates, etc. Please add the code number ("Kennziffer") of the job advertisement.
If you are interested in becoming a student assistant in the Finance Group, please send an email to finance-group@hu-berlin.de.