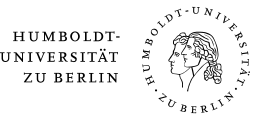 Finance Research Seminar
The Finance Research Seminar is a joint initiative of Humboldt-University and ESMT, and provides a forum to discuss current research in the area of finance. External guests are welcome.
Seminar organizers: Beatriz Mariano / Guillermo Baquero
Subscribe to e-mail announcements or subscribe to our CalDAV calendar to see our events directly in our calendar application. To unsubscribe from e-mail announcements please follow this link.
2021/22 winter term
Date
Speaker
Time and Location
2021 Oct 21
Open date (tba)
 
2021 Oct 28
Daniel Metzger (Erasmus University Rotterdam) - TBC
Host: Max Bruche
14:15 – 15:45
online
2021 Nov 04
Felix Noth (IWH) - TBC
Host: Alex Stomper
14:15 – 15:45
online
2021 Nov 11
Kornelia Fabisik (Frankfurt School) - Is History Repeating Itself? The (Un)Predictable Past of ESG Ratings
Host: Max Bruche
14:15 – 15:45
online
2021 Nov 15
Monday
Michael Bauer (Universität Hamburg) - Climate Finance Seminar
Host: Kai Lessmann
12:30 – 13:30
online
2021 Nov 25
Sergio Vicente (University of Luxembourg) - TBC
Host: Max Bruche
14:15 – 15:45
online
2021 Dec 02
Open date (tba)
 
2021 Dec 09
Open date (tba)
 
2021 Dec 16
Open date (tba)
 
2022 Jan 06
Johannes Stroebel (New York University) - Climate Finance Seminar
Host: Alex Stomper
15:00 – 16:30
online
2022 Jan 13
Open date (tba)
 
2022 Jan 20
Open date (tba)
 
2022 Jan 27
Rick van der Ploeg (University of Oxford) - Climate Finance Seminar
Host: Kai Lessmann
14:30 – 16:00
online
2022 Feb 03
Open date (tba)
 
2021 Feb 07
Monday
Darwin Choi (The Chinese University of Hong Kong) - Climate Finance Seminar
Host: Alex Stomper
12:30 – 13:30
online
2022 Feb 17
Open date (tba)
 
Preview Following Semester
2022 summer term
| Date | Speaker | Time and Location |
| --- | --- | --- |
| 2022 Apr 21 | Open date (tba) |   |
| 2022 Apr 28 | Open date (tba) |   |
| 2022 May 05 | Open date (tba) |   |
| 2022 May 12 | Open date (tba) |   |
| 2022 May 19 | Open date (tba) |   |
| 2022 Jun 02 | Open date (tba) |   |
| 2022 Jun 09 | Open date (tba) |   |
| 2022 Jun 16 | Open date (tba) |   |
| 2022 Jun 23 | Open date (tba) |   |
| 2022 Jun 30 | Open date (tba) |   |
| 2022 Jul 07 | Open date (tba) |   |
| 2022 Jul 14 | Open date (tba) |   |
| 2022 Jul 21 | Open date (tba) |   |
Previous Semesters: here