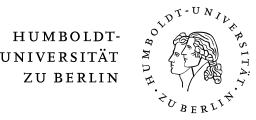 Schumpeter-BSE-Seminar
Tuesday, 4 to 6 p.m.
Online via Zoom
This research seminar is jointly organized with the Collaborative Research Center TRR 190 "Rationality and Competition"
Hosts: Michael Burda, Frank Heinemann, Nikolaus Wolf, Alexander Kriwoluzky, Mathias Trabandt
Responsible for coordination: keidel(at)wiwi.hu-berlin.de   
Summer term 2020
Apr 21, 2020

cancelled

Apr 28, 2020

Dr. Olivier Accominotti (LSE): "The origination and distribution of money market instruments: Sterling bills of exchange during the first globalisation"

May 05, 2020

cancelled

May 12, 2020

Michael Koetter (IWH Halle): "May the force be with you: Do political consolidation barriers depress bank profitability?" (with Carola Müller, Felix Noth, Benedikt Fritz)

May 19, 2020

Holger Strulik (Universität Göttingen): "Physiological Constraints and Comparative Economic Development"

 

May 27, 2020

Wednesday at 17.00 (s.t.)

Albrecht Ritschl (LSE): "Latin America on steroids: German central banking, 1923-1939"

Jun 02, 2020

Frank Schorfheide (University of Pennsylvania)

Jun 09, 2020

Mark Weder (University of Aarhus) :  "Do we really know that U.S. monetary policy was destabilizing in the 1970s?" (with Qazi Haque and Nicolas Groshenny)

Jun 16, 2020

Lucas Bretschger (ETH Zürich): "Malthus in the Light of Climate Change"

Jun 23, 2020

Jesper Lindé (International Monetary Fund)

Jun 30, 2020

Emanuel Mönch

Jul 07, 2020

Werner Roeger (EC Brussels):"The Relationship between Output Gaps Cyclical Indicators and Inflation"

Jul 14, 2020

Lars Börner (Universität Halle-Wittenberg): "A Time to Print, a Time to Reform"