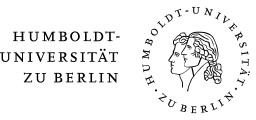 Chair of Information Systems
Mailing Address:

Humboldt-University of Berlin
School of Business and Economics
Chair of Information Systems


Unter den Linden 6, 10099 Berlin

Faculty:

Spandauer Straße 1, 10178 Berlin

                                                       

Contact:

Telephone: +49 30 2093-99540
Fax:+49 30 2093-99541
E-mail: bujarek@hu-berlin.de

 

Master of Science in Information Systems

 

Please, find more information concerning our Master's Program in Information Systems here: "Master program".

 

More questions? Please send an email to:

Director of the chair:

 

 

Secretariat:
News
Attention:
Advanced Data Analytics for Management Support (ADAMS) will change the timing in the summer semester 2020:
Lecture, Wednesday, 08.30 - 10.00 am (room 202)
Tutorial 1, Thursday, 08.30 - 10.00 am (room 125, except 14 May: room 22)
Tutorial 2, Wednesday 4.00 - 6.00 pm (room 25)
Change of timing of Bachelorseminar Wirtschaftsinformatik:
Lecture, Tuesday, 2.00-4.00 pm, room 338 at our chair
Students who are interested to write their BSc. / MSc. thesis at the Chair of IS find relevant information and suggestions for topics at our new Moodle page.
Here you can find more information regarding WS 2019/20:
You can download our welcome letter for our new master students here!
Here you will find more information for new students at HU as well as an orientation program!
Here you will find slides with informationen for our Master program in Information Systems, that will be presented by Prof. Lessmann during the welcome reception!
As of 14th October 2019 (WS 2019/20) consultation hours with Prof. Lessmann will take place as follows:
all students on Thursday 10.15 - 11.15 am.
Because of the large demand, appointments will be given only with previous registration by sending an e-mail to bujarek@hu-berlin.de.