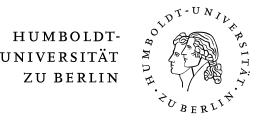 Chair of Information Systems
Mailing Address:

Humboldt-University of Berlin
School of Business and Economics
Chair of Information Systems


Unter den Linden 6, 10099 Berlin

Faculty:

Spandauer Straße 1, 10178 Berlin

                                                       

Contact:

Telephone: +49 30 2093-99540
Fax:+49 30 2093-99541
E-mail: bujarek@hu-berlin.de

 

Master of Science in Information Systems

 

Please, find more information concerning our Master's Program in Information Systems here: "Master program".

 

More questions? Please send an email to:

Director of the chair:

 

 

Secretariat:
News
New video with information on our teaching offers in summer 2020 now available on youtube. The slides of the video are also available for download.
Change of the application deadlines for the master's program in business information systems
Please note the extension of the application period for the master of information systems. You can find detailed information on the deadlines here:
https://www.wiwi.hu-berlin.de/de/studium/sb/bewerbung
Change of the application deadlines for seminars
Due to the postponement of the start of the lecture period, the deadline for registering for seminars via AGNES has been changed. The registration period for the seminars listed below has been extended until April 14th, 2020:
707924 BA-SE Business Information Systems
707926 SE Applied Predictive Analytics
General information on SS 2020
The modules announced in the course catalog will take place. The only exception is the seminar for the presentation of theses. However, teaching is only offered in digital form. We will focus on videos in particular and provide corresponding recordings for lectures/exercises. There will also be opportunities to discuss lecture content (via zoom).
We are currently building a Moodle page for each module (without a course key and accessible to everyone). There you will find specific information about the respective module. These pages are not yet finished. Please have a littel patience.
Important information about theses:
Final theses will of course continue to be supervised. Relevant information and current topic searches can be found as usual on our Moodle page for these. If you submit your thesis, please send a pdf version by e-mail to Prof. Lessmann asap.
Coronavirus emergency measures:
The Humboldt University of Berlin has decided on a series of immediate measures to combat the further spread of the so-called coronavirus. Current information can be found on the website hu.berlin/corona.
Office hours
Consultation hours can only be offered digitally in zoom in SS 2020. Meetings with Prof. Lessmann are coordinated by Mrs. Bujarek (bujarek@hu-berlin.de). Please make an appointment by email. Do coordinate meetings with other staff at the chair directly with the corresponding staff.