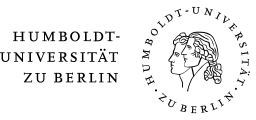 Chair of Entrepreneurial and Behavioral Decision Making
The Chair of Entrepreneurial and Behavioral Decision Making concerns itself with applied questions such as entrepreneurial decisions, innovation decisions and decisions in change processes. It conducts basic research on the genesis and explanation of human decision making based on economic and mathematical psychology, on behavioral economics and on philosophy. It also deals with the experimental analysis of human decision making and with questions of experimental design. A further research focus is on quantum mechanics/quantum decision making and different utility concepts (happiness research).

The chair is held by Professor Dr. Christian D. Schade.

The chair is located at Spandauer Straße 1, third floor. Admin. office room 302.
News
Professor Schades student office hours in the summer term 2021 will be held via zoom Tuesdays from 4.00 to 5.00 pm. Please contact Ute Ottenbreit to arrange an appointment.
For capacity reasons, Professor Schade will not be accepting any new doctoral students before the end of 2021 at least. The same is true for mentoring functions within the Berlin StartUp stipend or similar programs.
Visit our facebook page for further news!