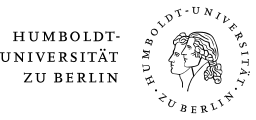 Application
Dear prospective students,
We appreciate your interest in our Master's program in Information Systems! We would like to shortly inform you in advance about our admission requirements:
Foreign applicants apply through Uni-ASSIST (http://www.uni-assist.de) even when you are already in Germany.
Exception: Applicants who have previously completed a degree program at HU apply online at http://www.hu-berlin.de/studium.
To be sure, whether you need to apply through Uni-Assist, please read the following information of the International Admission Office:
Attention: Application periods can be found on the following page:
Application Periods can be found here.
Required documents to be submitted:
Proof of completed graduate or undergraduate degree (or equivalent degree) in Information Systems, Industrial Engineering, Computer Science (ideally with an economics minor), economics (ideally with a minor in Computer Science) or a related discipline.

Applications without a bachelor's degree:

If you are in the final phase of your bachelor's degree programme, under certain conditions you can still begin your master's course while your degree is pending

(for more information here)
The following subject-specific qualifications of at least 30 ECTS are required:

at least 15 ECTS in methodological skills (Mathematics, Statistics, Econometrics, Operations Research)

at least 9 ECTS in practical informatics (e.g. Algorithms and Data Structures, Operating Systems, Data Bases, Modelling, Digital Systems)

basic knowledge in programming (programming languages like C, C++, Java, Python are welcome but not: R, Stata, SPSS, Javascript, HTML) of at least 6 ECTS.
Please, if possible mark the courses on your grade transcript to allow us a better evaluation of all your methodological courses.
Required language certificates:

German: Please, note that applicants from foreign countries are required to provide further certificates of German language of at least level B1 of the Common European Reference Framework.
English:  find more information here.
Optionally applicants can submit GRE (Graduate Record Examination) or GMAT (Graduate Management Admission Test)

In case of submission of one of these tests, the final admission grade will be calculated on the basis of grades from your professional diploma (51%) and on the basis of one of the aforementioned tests (49%). Please contact us for further details.
In the absence of the GRE or GMAT test results, the final admission grade of the applicant will be calculated on the basis of the scope and grades from the transcript of granting more weight to the methodological and IS specific courses.
Students at the Humboldt University of Berlin can fulfill the requirements to apply for the Master in Information Systems via completing the following modules:
6 ECTS in programming taking the module "Grundlagen der Programmierung" (6 ECTS) offered by the Chair of Information Systems
9 ECTS in practical computer science by taking the courses "Business Intelligence Systems" (6 ECTS) offered by our chair and "Strategie, Organisation und IT" (3 ECTS). Latter will be jointly held by Prof. Anja Schöttner (Management) and Prof. Lessmann as of SS 2017.
Information about how to apply and hand in your documents are displayed to you during the application process. The online application site can be found on the HU-Homepage.
Detailed information on how the ranking of an applicant is calculated can be found here.
Detailed information about the application can be found at:
https://www.hu-berlin.de/en/studies/admission/notes-master/masterbewerbung-en?set_language=en
and
https://www.wiwi.hu-berlin.de/en/study/sb/bewerbung/masterstudiengange/standardseite-en?set_language=en
You can find additional information reading the so-called "Fachspezifische Zugangs- und Zulassungssatzung" (only in German).
We are looking forward to your applications!
A link to admission requirements for graduate degree in Information Science of the HU Berlin can be found here: Fachspezifische Zugangs- und Zulassungssatzung zur ZSP-HU 2.2.3.25   and   Anlage der Zulassungsregeln.