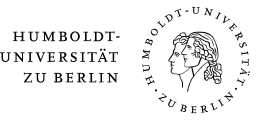 Curriculum
Dear students,
Due to necessary adjustments of the study and examination regulations (SO/PO) with respect to the central study and examination regulations (ZSP) of the Humboldt University of Berlin, there will be two different versions of them parallel during the certain period.
Students who were enrolled before winter term 2016/2017 and studying therefore under the old SO/PO have the option to switch to the new one. If you are interested or if you need more information, please address the examination office.
The old regulations will expire on 30th September 2018!
Students who started their master studies in winter semester 2016/17, automatically study according to the new SO/PO.
 

Old SO/PO

(before WS16/17)

New SO/PO

(as of WS16/17)

A quick overview of the three different areas of the courses (compulsory, mandatory elective and elective courses) can be found here:
Figure
Figure
An example of a course plan can be found at the following link:

The current compulsory modules can be found here:

The current elective modules can be found on agnes
The current study and examination regulations can be viewed at the following link:

Erste Änderung der Studien- und Prüfungsordnung