Professor Mordechai Levi, Ph.D.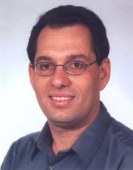 Professor Mordechai Levi, Ph.D. (curriculum vitae)
Penn State University in Pittsburgh, Pennsylvania
summer semester 2002
Teaching
"E-Commerce for Entrepreneurs"
Professor Levi got his Ph.D. at the renowned Wharton School, University of Pennsylvania. At the Tulane University, he offered undergraduate and graduate courses in e-Commerce and the management of information systems. Since he started working at the Penn State University only recently, a schedule of courses is not yet available.
Professor Levi himself filed two patents in the field of Internet and e-Commerce. Thus, it is not surprising that he knew how to inspire his students in Berlin with his course "E-Commerce for Entrepreneurs" that he taught during his HANIEL Guest-Professorship in May/June 2002. Professor Levi contributed as well to the success of the weekend seminar "Price Management for Innovations", offered by the Institute for Entrepreneurial Studies and Innovation Management, in the summer semester 2002.