Professor Saras D. Sarasvathy, Ph.D.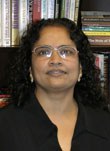 Professor Saras D. Sarasvathy, Ph.D. (curriculum vitae)
Darden Graduate School of Business Administration
University of Virginia
summer semester 2006
Teaching
"Effectuation: How expert entrepreneurs do it"
"Doctoral, diploma, and master candidates' seminar on entrepreneurship and innovation"
Saras D. Sarasvathy teaches entrepreneurship and ethics in Darden's MBA program. She was also the very first Batten Fellow in residence in 1999. Her research led to the development of a model of entrepreneurial expertise called effectuation, that provides micro-foundations for theories about the creation and growth of new organizations and markets. Her active research program involves collaborations with over a dozen scholars from around the world, whose published and working papers can be found at www.effectuation.org. Sarasvathy has also developed several cases and other instructional materials to teach effectuation to MBA students and executives.
In addition to a master's degree in Industrial Administration, she received her Ph.D. in Information Systems from Carnegie Mellon University. Her thesis on entrepreneurial expertise was supervised by Herbert Simon, 1978 Nobel Laureate in Economics. Before joining Darden, she had been on the faculty of University of Washington's business school, and the R. H. Smith School of Business at the University of Maryland. And before that, she was part of the founding team in five entrepreneurial ventures.